Commercial Janitorial Services
At MBM Cleaning, we're your full-service commercial cleaner and janitorial service in Cleveland. Offering so much more than just office cleaning services, we can help get your commercial property, no matter whether you own a factory or run a shopping mall, spic-and-span in no time at all. Our professional staff of commercial cleaners has the hands-on knowledge and 10+ years of experience in the industry, and we can tackle messes large and small. When you want to count on the specialized skills of an expert commercial janitorial service, you can rely on MBM Cleaning. We serve: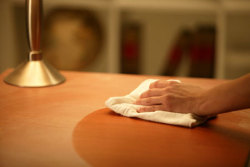 Commercial Office Buildings
Medical Buildings
Factories and Industrial Properties
Schools and Universities
Churches and Houses of Worship
Shopping Malls
Restaurants
Condominiums and Apartments
Retail Stores
Providing routine janitorial cleaning services as well as one-time special cleanings, MBM Cleaning offers quality cleaning and superior customer service to each and every one of our commercial customers. Our professional janitorial cleaning staff shows up on time, works efficiently, and leaves your space clean and gleaming. Available for after-hours service, we provide 7-day-a-week convenience for businesses throughout Cleveland. So whether you're a small business owner or the manager of a large office, medical, or educational facility, MBM Cleaning would love to help you with all of your commercial cleaning needs. Contact us via phone or e-mail for more information!
Light Fixture Cleaning Services
Dim lighting doesn't always mean it's time to replace those light fixtures, or even that it's time for new bulbs. Light fixture cleaning services from MBM Cleaning not only removes unsightly buildup, it can also make your light fixtures work better and provide more efficient light! That's because as dust accumulates on the surface of your light fixtures, it blocks out some of the light and keeps the reflectors from working properly. At MBM Cleaning, our janitorial cleaning service professionals carefully wipe away built-up grit and grime, enabling your light fixtures to shine their brightest. Great for affordably illuminating your office or shop and helping reduce eyestrain, our light fixture cleaning services can help your business shine--literally!
Construction Cleanup Services
Construction, renovation, and remodeling can sure make a big mess! Your new space simply can't look it's best until all the dust and debris of building has been cleared away. That's where MBM Cleaning comes in. Our janitorial services professionals also offer construction cleanup for commercial customers, helping you get your space out from under that construction mess. From hauling away small debris to complete sweeping/vacuuming and wiping of walls, counters, and other surfaces, our team will wash away the grit and grime so you can start using your freshly renovated or newly built space. Your full-service commercial cleaners in Cleveland, MBM Cleaning is even your solution for construction cleanup services. Learn more when you call today.
floor cleaning services
janitorial service
janitorial cleaning services
light fixture cleaning services