Office Cleaning Services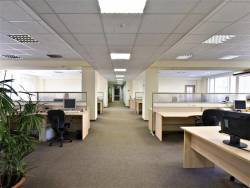 Keeping your office clean is not only important to fostering a positive workplace environment, it's also crucial for presenting customers with the best first impressions! If you're in the market for a professional office cleaning service, you've come to the right place. MBM Cleaning Inc. specializes in business cleaning services, and we can help ensure your commercial space is as clean, inviting, and fresh as possible. We're committed to using our expertise as office cleaning contractors to help you improve and maintain your property's level of cleanliness. With over 10 years of experience as an office cleaning service, MBM Cleaning has helped hundreds of companies in Cleveland. If you're ready to join the ranks of our satisfied customers, just give us a call today!
Unlike residential cleaning companies that also dabble in office cleaning services, MBM Cleaning is a full-service business cleaning service that understands the unique needs of offices, shops, and businesses. Instead of taking a cookie-cutter approach and offering a standard set of cleaning services, we listen to our customers, working with you to make sure you get the business cleaning services you need for your specific needs. Every company and office is different, and we believe your cleaning services should be as unique as you are. Our office cleaning contractors will help you create an individualized plan that's designed to meet your specific needs and budget. So don't settle for less! Contact MBM Cleaning for a reliable, professional cleaning service that puts the customer first.
We're available for:
Floor cleaning
Light fixture cleaning
Wall washing
Office panel cleaning
Janitorial services
Bathroom cleaning and disinfection
Window and glass cleaning
Interior build-to-suit cleanup
Garage and warehouse sweeping and scrubbing
Pressure window cleaning services
Washing services for garages and warehouses
Sweeping for garages and warehouses
Scrubbing parking lots
Sweeping building shells
Construction cleanup
Offering flexible hours to suit your schedule, MBM Cleaning's office cleaning contractor team is ready to serve you seven days per week, both during and after office hours. We can set up daily, weekly, or even bi-weekly cleaning services for your convenience. At MBM Cleaning, our professionals are here to get your entire office or business clean from top to bottom--let our experts bring you cost-effective, expert office cleaning services and the sparkling results you deserve.
Office Cleaning Contractors
Facility Maintenance
Business Cleaning Services
Building Maintenance
Maintenance Services